ORLANDO, FLA. (May 10, 2021) – Holiday Inn Club Vacations Incorporated, a national vacation ownership company, today announced a partnership with Special Olympics Florida, participating in the organization's new "Every Family Is Special" campaign, which celebrates the diversity of the families it serves and aims to raise awareness of the unique challenges its families experience, along with the incredible joy of raising a child with different abilities. Through this partnership, the Company hosted a Special Olympics athlete and his family for a stay at its flagship property in Orlando – Holiday Inn Club Vacations at Orange Lake Resort – prior to the 2021 State Tennis Championships.


Roan Luallen, an athlete from Pensacola, Florida who competes in tennis singles with Special Olympics Florida, was invited to stay at the resort with his mom, Sherryll Luallen, and grandparents. In middle school, Roan initially had no interest in any sports and preferred being alone. He was introduced to tennis by an adaptive P.E. teacher, who also served as a Special Olympics Florida coach, and after some encouragement from home and school, he found a new passion in the sport. In a short period of time, Roan progressed into a top athlete, earning a Silver medal in his first year of competition. Sherryll credits tennis and Special Olympics Florida for helping Roan grow his self-confidence, make new friends and gain important life skills.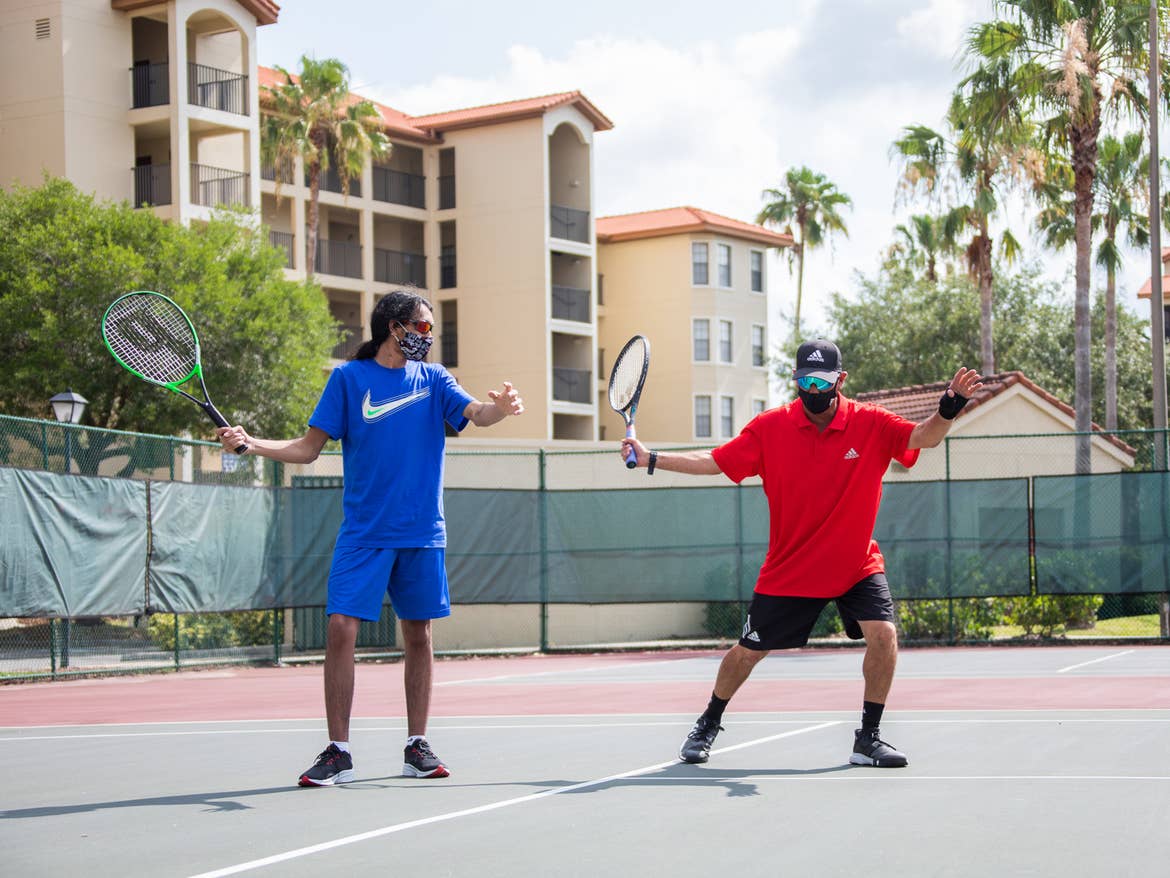 In addition to enjoying a much-needed, relaxing vacation with his family, Roan participated in a private training session with former tennis pro Ernie Fink at the resort's tennis complex to help prepare him for the weekend's competition.


"We were so excited to host Roan and his family at our resort! At Holiday Inn Club Vacations, our purpose is to strengthen families through meaningful travel experiences and this partnership with Special Olympics Florida allows our team to do just that for an inspiring athlete and his deserving family," said Chelsea Wynn, Vice President at Holiday Inn Club Vacations at Orange Lake Resort. "Plus, tennis is an important part of Orange Lake Resort's history. In its early years of operation, the resort housed a tennis stadium and often hosted professional competitions. Tennis remains one of the top activities enjoyed by our owners and guests."


"We are incredibly grateful to our longtime partner Holiday Inn Club Vacations for their support of our athletes and our Every Family is Special campaign," said Sherry Wheelock, President and CEO of Special Olympics Florida. "Families are at the heart of our mission to create a more inclusive world for people with intellectual disabilities. They provide the love, support, and encouragement that enables our athletes to achieve amazing things. We are thrilled to partner with organizations like Holiday Inn Club Vacations to celebrate and raise awareness of their unique stories. Holiday Inn Club Vacation's generosity allowed Roan and his family to experience the vacation of a lifetime. And those private tennis lessons ensured Roan was well prepared to compete at our State Tennis Championship."


Before leaving the resort and heading to the USTA National Campus, Holiday Inn Club Vacations team members organized a send-off for Roan, cheering him on and wishing him good luck in the competition. This year, Roan won first place in the State Tennis Championships.


Initially opened in 1982, Holiday Inn Club Vacations at Orange Lake Resort spans more than 1,100 acres in size. With four different villages, the resort offers numerous on-property amenities including multiple pools, a lazy river, children's splash pad, two mini-golf courses, activity center, lake with watersport rentals, two 18-hole championship golf courses and various restaurants and retail stores. For more information on the resort, visit holidayinnclub.com/explore-resorts/orange-lake-resort.


---
About Holiday Inn Club Vacations Incorporated
Encompassing 28 resorts, 7,900 villas in 14 U.S. states and more than 365,000 timeshare owners, Holiday Inn Club Vacations Incorporated is a resort, real estate and travel company with a mission to be the most loved brand in family travel by delivering easy-to-plan, memorable vacation experiences that strengthen families.
Based in Orlando, Fla., the Company has been a leader in the vacation ownership industry since 1982, when it was established by Holiday Inn® founder Kemmons Wilson with the opening of the Company's flagship property, Holiday Inn Club Vacations® at Orange Lake Resort next to Orlando's Walt Disney World® Resort.
Today, the Holiday Inn Club Vacations resort portfolio spans the Eastern and Central United States, with a growing presence in desirable Western U.S. destinations. Throughout its history, the Company has maintained the core family values true to its majority ownership by the Wilson family, while aggressively pursuing growth, transforming its member engagement model and building an industry-leading team passionate about the guest experience.


About Special Olympics Florida
Special Olympics Florida provides year-round sports training, competition, and health services to children and adults with intellectual disabilities, at no cost to the athletes or their caregivers, as a means to achieve physical fitness, self-esteem, socialization skills, and the life skills necessary to be productive, respected, and contributing members of their communities. To learn more, visit www.specialolympicsflorida.org.